March 3, 2016
Teaching a 5,000 year Korean performance tradition across borders
Image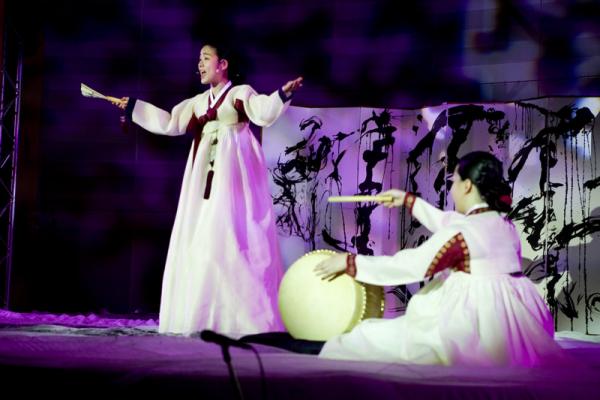 Description
A collaborative effort between The Ohio State University, the Committee on Institutional Cooperation (CIC), the University of Michigan, and the University of Wisconsin is bringing Korean performance into the classroom through a distance learning initiative. The East Asian Studies Center and Institute for Korean Studies coordinate and support the offering of these courses to further advance students' growing interest in a variety of Korean subjects and increase enrollments in the classroom through e-learning technology. The Korean performance course, launched spring semester in the Department of East Asian Languages and Literatures, is taught by Ohio State professor, Chan Park, both in a classroom on the Ohio State campus and through the CIC e-School consortium, part of the Korea Foundation's global e-school initiative, via live video conference to students at Michigan and Wisconsin, with support from the Office of Distance Education and eLearning. This is a one-of-a-kind interdisciplinary course combining literature and music of Korea including the storysinging tradition of p'ansori and a folk percussion. P'ansori is a major Korean storysinging tradition and is performed by a vocalist and a drummer.
The course will culminate with a performance, "Korean Wind & Stream," which is set for 7:30 p.m., March 10, at the Barnett Theater in Sullivant Hall. The performance will be directed by Park and features students enrolled in the course from Ohio State and Michigan campuses, as well as master performers from Korea, Chung Heoi Chun, Lee Jong Ho and Kim Eun Su.
"The reason that I strictly focus this course on P'ansori is because I want to develop this course as a Korean language, literature and culture oriented course," Park said. "Through the learning of P'ansori students really learn the language. This deepens students' sensitivity to Korean language, which is where the literature comes from as well as cultural tradition."
Korean performance manifests the characteristics of Korean ethnicity, experience and place and is a 5,000 year tradition. Offering Korean performance is a priority for the East Asian Studies Center to further globalize Ohio State's community. The CIC e-School consortium enables the center to broaden its impact and increase student enrollment in this Korean tradition.
Distance learning is new to Park, but she hopes her efforts for this course will better internationalize the Ohio State community.
"Korean performance is getting big," she said. "This is putting our institution on the cultural map. Ohio State is already on that map, but I think this strengthens our abilities to further globalize the university."
As campus lead for the Korean eSchool program, director of the Institute for Korean Studies, Mitch Lerner, feels this opportunity makes Ohio State a stronger leader in the e-learning world.
"The Korean e-class program is a great opportunity for Ohio State students," said Lerner. "Not only do they get to take courses from prominent professors from other major universities, but they get to interact with other students at those schools at the same time. Through programs like this, Ohio State is playing a prominent role in shaping the future of e-learning, while building connections and developing opportunities for students at the same time."
In addition, distance learning classes enable more students with Korean performance interests to participate in the cultural history while giving them additional resources through the use of digital technologies.
"This program was launched because there was plenty of creativity and the academic need was growing," Park said. "We just needed the resources and what Ohio State offered has given us a wonderfully growing program."
For further information on Korean performance studies at Ohio State, visit the Korean Performance Research Program website. For information on other CIC eSchool consortium courses currently being offered at Ohio State in the Department of History and the Undergraduate International Studies Program, visit http://easc.osu.edu/news/korean-courses-spring-2016.
The CIC eSchool consortium is made possible by the generous support of the Korea Foundation.
---