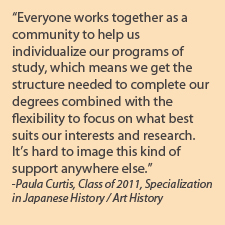 EAS MA students are encouraged to participate in extracurricular activities such as language tables, student organizations, film showings, lecture series, discussion groups, conferences and symposia, community outreach and service activities. The East Asian Studies Center alone offers approximately more than 100 events annually for students to experience East Asia outside the classroom. Additionally, there are more than 80 student organizations on campus focused on East Asia, covering everything from anime to calligraphy and more.
The Ohio State University also offers excellent facilities for students, including:
New Library
OSU's new Thompson Library, opened in 2009, offers students state of the art research and library services. The East Asian Studies collection of the main library contains nearly 300,000 volumes, 60,000 microforms and 1,500 serial titles.
New Recreation Center
The Recreation and Physical Activity Center (RPAC) at OSU opened in 2005 and houses over 27,000 square feet of fitness space for maintaining good health during your studies.
New Student Union
OSU's new Ohio Union opened in 2010 and offers one of the nation's premier student services facilities.
Mershon Center for International Security Studies
OSU is also home to the Mershon Center for International Security Studies, a privately-endowed academic institution devoted to research on issues of national defense.
World Media and Culture Center
The World Media and Culture Center provides an extraordinary array of facilities for studying foreign languages and cultures.