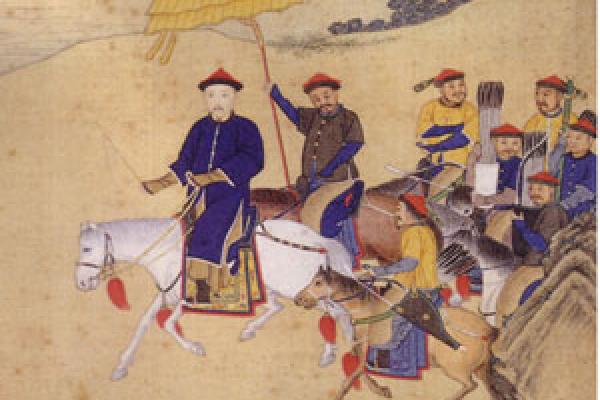 April 5, 2013
4:10PM - 6:00PM
140 Jennings Hall, 1735 Neil Ave (OSU)
Add to Calendar
2013-04-05 15:10:00
2013-04-05 17:00:00
ICS Lecture: Michael G. Chang "The Politics of Access at the Qing Court: the Young Kangxi Emperor and His Personal Advisors"
Detail from the Kangxi-era Nanxun tu (scroll 2) (c. 1690) Source:  Qing dai gongting huihua (Paintings by the Court Artists of the Qing Court). (Hong Kong: The Commercial Press, Ltd., 1996): 68. "The Politics of Access at the Qing Court:  the Young Kangxi Emperor and His Personal Advisors"Abstract:This lecture will focus on the degrees of access afforded by the young Kangxi emperor (1654-1722, r. 1661-1722) to a number of personal advisors, particularly during the 1660s and 1670s. These were critical years in the young monarch's assumption of direct rule, when he sought to establish independence from his regents and assert imperial prerogatives. In doing so, the young emperor turned to the recruitment of Han Chinese scholar-officials, which has led many to assume and emphasize the Kangxi emperor's acceptance and adoption of Confucian notions of imperial rulership as well as their attendant institutional forms and practices. However, closer examination of the interactions between a well-known Confucian scholar-official named Xiong Cilu (1635-1709) and the young Kangxi emperor reveals an active and contentious process of negotiation (over a set of institutional arrangements and practices to be explored in more detail). These differences between Xiong and the throne suggest a clash of priorities and political cultures in which a venerable vision of relatively open access to the monarch enjoyed by Confucian scholar-officials like Xiong Cilu, who sought to edify and inculcate their young imperial charge in the ways of proper (Confucian) governance, often brushed up against a more militarized and exclusive culture of the imperial retinue, particularly (but not only) during a time of ongoing conquest. In the end, Xiong's access to the throne did not reflect his genuine influence over the young and emerging ruler, but rather revealed his political impotence at the early Qing court. At the same time, those who were willing and able to acknowledge the importance of martial values enjoyed more meaningful access and influence during the early Kangxi period by dint of their inclusion in the imperial retinue, a privilege which eluded Xiong. Biography:Michael G. Chang is Associate Professor in the Department of History and Art History at George Mason University in Fairfax, VA.  He received his A.B. in sociology and East Asian Studies from Princeton University and his Ph.D in Chinese history from the University of California at San Diego.  He is the author of A Court on Horseback: Imperial Touring and the Construction of Qing Rule, 1680-1785 (Harvard, 2007) as well as numerous articles and book reviews. He is currently a fellow in the Public Intellectuals Program (PIP) sponsored by the National Committee on U.S.-China Relations (NCUSCR).Co-sponsor: Department of History
140 Jennings Hall, 1735 Neil Ave (OSU)
OSU ASC Drupal 8
ascwebservices@osu.edu
America/New_York
public
Date Range
Add to Calendar
2013-04-05 16:10:00
2013-04-05 18:00:00
ICS Lecture: Michael G. Chang "The Politics of Access at the Qing Court: the Young Kangxi Emperor and His Personal Advisors"
Detail from the Kangxi-era Nanxun tu (scroll 2) (c. 1690) Source:  Qing dai gongting huihua (Paintings by the Court Artists of the Qing Court). (Hong Kong: The Commercial Press, Ltd., 1996): 68. "The Politics of Access at the Qing Court:  the Young Kangxi Emperor and His Personal Advisors"Abstract:This lecture will focus on the degrees of access afforded by the young Kangxi emperor (1654-1722, r. 1661-1722) to a number of personal advisors, particularly during the 1660s and 1670s. These were critical years in the young monarch's assumption of direct rule, when he sought to establish independence from his regents and assert imperial prerogatives. In doing so, the young emperor turned to the recruitment of Han Chinese scholar-officials, which has led many to assume and emphasize the Kangxi emperor's acceptance and adoption of Confucian notions of imperial rulership as well as their attendant institutional forms and practices. However, closer examination of the interactions between a well-known Confucian scholar-official named Xiong Cilu (1635-1709) and the young Kangxi emperor reveals an active and contentious process of negotiation (over a set of institutional arrangements and practices to be explored in more detail). These differences between Xiong and the throne suggest a clash of priorities and political cultures in which a venerable vision of relatively open access to the monarch enjoyed by Confucian scholar-officials like Xiong Cilu, who sought to edify and inculcate their young imperial charge in the ways of proper (Confucian) governance, often brushed up against a more militarized and exclusive culture of the imperial retinue, particularly (but not only) during a time of ongoing conquest. In the end, Xiong's access to the throne did not reflect his genuine influence over the young and emerging ruler, but rather revealed his political impotence at the early Qing court. At the same time, those who were willing and able to acknowledge the importance of martial values enjoyed more meaningful access and influence during the early Kangxi period by dint of their inclusion in the imperial retinue, a privilege which eluded Xiong. Biography:Michael G. Chang is Associate Professor in the Department of History and Art History at George Mason University in Fairfax, VA.  He received his A.B. in sociology and East Asian Studies from Princeton University and his Ph.D in Chinese history from the University of California at San Diego.  He is the author of A Court on Horseback: Imperial Touring and the Construction of Qing Rule, 1680-1785 (Harvard, 2007) as well as numerous articles and book reviews. He is currently a fellow in the Public Intellectuals Program (PIP) sponsored by the National Committee on U.S.-China Relations (NCUSCR).Co-sponsor: Department of History
140 Jennings Hall, 1735 Neil Ave (OSU)
East Asian Studies Center
easc@osu.edu
America/New_York
public
Detail from the Kangxi-era Nanxun tu (scroll 2) (c. 1690) Source:  Qing dai gongting huihua (Paintings by the Court Artists of the Qing Court). (Hong Kong: The Commercial Press, Ltd., 1996): 68.
"The Politics of Access at the Qing Court:  the Young Kangxi Emperor and His Personal Advisors"
Abstract:
This lecture will focus on the degrees of access afforded by the young Kangxi emperor (1654-1722, r. 1661-1722) to a number of personal advisors, particularly during the 1660s and 1670s. These were critical years in the young monarch's assumption of direct rule, when he sought to establish independence from his regents and assert imperial prerogatives. In doing so, the young emperor turned to the recruitment of Han Chinese scholar-officials, which has led many to assume and emphasize the Kangxi emperor's acceptance and adoption of Confucian notions of imperial rulership as well as their attendant institutional forms and practices. However, closer examination of the interactions between a well-known Confucian scholar-official named Xiong Cilu (1635-1709) and the young Kangxi emperor reveals an active and contentious process of negotiation (over a set of institutional arrangements and practices to be explored in more detail). These differences between Xiong and the throne suggest a clash of priorities and political cultures in which a venerable vision of relatively open access to the monarch enjoyed by Confucian scholar-officials like Xiong Cilu, who sought to edify and inculcate their young imperial charge in the ways of proper (Confucian) governance, often brushed up against a more militarized and exclusive culture of the imperial retinue, particularly (but not only) during a time of ongoing conquest. In the end, Xiong's access to the throne did not reflect his genuine influence over the young and emerging ruler, but rather revealed his political impotence at the early Qing court. At the same time, those who were willing and able to acknowledge the importance of martial values enjoyed more meaningful access and influence during the early Kangxi period by dint of their inclusion in the imperial retinue, a privilege which eluded Xiong. 
Biography:
Michael G. Chang is Associate Professor in the Department of History and Art History at George Mason University in Fairfax, VA.  He received his A.B. in sociology and East Asian Studies from Princeton University and his Ph.D in Chinese history from the University of California at San Diego.  He is the author of A Court on Horseback: Imperial Touring and the Construction of Qing Rule, 1680-1785 (Harvard, 2007) as well as numerous articles and book reviews. He is currently a fellow in the Public Intellectuals Program (PIP) sponsored by the National Committee on U.S.-China Relations (NCUSCR).
Co-sponsor: Department of History
---