Monday, March 18, 2013 -

5:00pm

to

8:30pm
Hagerty Hall, Room 045 (1775 College Road)
The Institute for Chinese Studies is pleased to announce its third year of hosting graduate forums (one or more each academic year, organized by ICS or by individual China faculty members in conjuunction with ICS). These area- or theme-based forums feature presentations by our OSU graduate students in China-related fields. The 2013 ICS Graduate Forum this spring has the theme, Chinese oral and performing literature, a theme broadly construed to include storytelling, opera, ceremonial chanting, folksongs, spoken drama, musical plays, modern songs, rap, etc. Also welcomed are studies on the interplay between oral and written texts, as well as literary and/or linguistic analyses of written texts that are, or had once been, sung or performed. Graduate students will give 20-minute presentations (15 minutes + 5 minutes for Q&A) on their research.
PROGRAM AND SPECIAL PRESENTERS (Flyer with program)
The 2013 ICS Graduate Forum features three special presenters who will have an opportunity to deliver a second rendition of their talks later in the week at the 2013 CHINOPERL Conference. Our three special presenters and the titles of their presentation are:
GIBBS, Levi. "Singing the Region: Tensions in the Transition from Local to Regional Folksong Traditions in Northern China"

YANG, Qiong. "From Patriot to Poet of the People: Guo Moruo's Historical Play Qu Yuan and Its Revisions"

YOU, Ziying. "Contested Myth and History: Yao and Shun and Their Beliefs in Hongtong, Shanxi, China"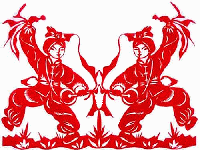 PROGRAM SCHEDULE - No registration required. Everyone is welcome.
5:00 - 5:15: Food and refreshments
5:15 - 8:30: Welcoming remarks and presentations
ICS Graduate Forum - Flyer with program
(The Program Booklet will be available at the event.)


CO-SPONSORS
Department of East Asian Languages and Literatures
Center for Folklore Studies
Graduate Association of Chinese Linguistics
Graduate Students of East Asian Languages and Literatures
---
Note: The photo, taken by Ziying You, captures the worshipping of Yao during a ceremony celebrating his birthday, which falls on the 28th of the fourth month in the lunar calendar. The papercut is available online at various places, including Yan'an Travel Guide.