Image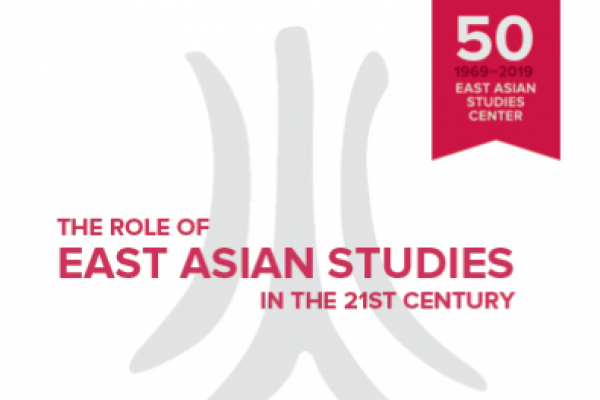 April 8, 2022
9:00AM - 6:00PM
Location
The Ohio Union, Great Hall Meeting Room, 1st Floor (registration required)
Date Range
Add to Calendar
2022-04-08 09:00:00
2022-04-08 18:00:00
EASC 50th Anniversary Conference
"The Role of East Asian Studies in the 21st Century" Recent events––both positive and negative––have reminded us of the critical role of East Asia and East Asian studies in the 21st century. China, Japan, and Korea remain at the forefront of public attention across the globe, and yet, the landscape that surrounds us is ominous. A 2109 Chronicle of Higher Education article reported that global emphasis in higher education is diminishing nationwide. Foreign language programs are being closed, the number of students in foreign language courses is dropping, and international enrollment is on the decline. The ramifications of this diminished engagement with the world beyond the US borders are potentially disastrous. We at Ohio State University's East Asian Studies Center believe that it is time for all of us to ask what contributions we can make to the field during this time of crisis; how we can make a difference in this increasingly complex and interconnected world; and where we should go from here. These questions are particularly important for our graduate students as they prepare to be the next leaders of East Asian studies. The East Asian Studies Center celebrates our 50th anniversary with a conference on the role of East Asian Studies in the 21st century. Full abstracts and bios can be found at the links to speaker pages below. Schedule: 8:30 AM  Registration 9:00 AM  Welcome                  Mitchell Lerner, The Ohio State University 9:15 AM  Mari Noda, The Ohio State University                 "Everybody Gotta be Someplace: Contexts are Always Serious" 10:30 AM  James Millward, Georgetown University                    "Decolonizing the Historiography of China" 11:30 AM Lunch 1:00 PM  Paul Pickowicz, University of California, San Diego                 "Very Close Encounters: Modern China at the Grassroots" 2:15 PM  Meow Hui Goh, The Ohio State University                 "Practicing Human: As Gleaned from Early Medieval Chinese Texts" 3:30 PM  Sheila Miyoshi Jager, Oberlin College                  "The Other Great Game: The Opening of Korea, Wars of Empires, and the Birth of                  Modern East Asia" 4:45 PM  Michael Puett, Harvard University                  "Dispositions, Rituals, and Human Flourishing: Theories from Classical China" 5:45 PM  Conclusion
The Ohio Union, Great Hall Meeting Room, 1st Floor (registration required)
OSU ASC Drupal 8
ascwebservices@osu.edu
America/New_York
public
Date Range
Add to Calendar
2022-04-08 09:00:00
2022-04-08 18:00:00
EASC 50th Anniversary Conference
"The Role of East Asian Studies in the 21st Century" Recent events––both positive and negative––have reminded us of the critical role of East Asia and East Asian studies in the 21st century. China, Japan, and Korea remain at the forefront of public attention across the globe, and yet, the landscape that surrounds us is ominous. A 2109 Chronicle of Higher Education article reported that global emphasis in higher education is diminishing nationwide. Foreign language programs are being closed, the number of students in foreign language courses is dropping, and international enrollment is on the decline. The ramifications of this diminished engagement with the world beyond the US borders are potentially disastrous. We at Ohio State University's East Asian Studies Center believe that it is time for all of us to ask what contributions we can make to the field during this time of crisis; how we can make a difference in this increasingly complex and interconnected world; and where we should go from here. These questions are particularly important for our graduate students as they prepare to be the next leaders of East Asian studies. The East Asian Studies Center celebrates our 50th anniversary with a conference on the role of East Asian Studies in the 21st century. Full abstracts and bios can be found at the links to speaker pages below. Schedule: 8:30 AM  Registration 9:00 AM  Welcome                  Mitchell Lerner, The Ohio State University 9:15 AM  Mari Noda, The Ohio State University                 "Everybody Gotta be Someplace: Contexts are Always Serious" 10:30 AM  James Millward, Georgetown University                    "Decolonizing the Historiography of China" 11:30 AM Lunch 1:00 PM  Paul Pickowicz, University of California, San Diego                 "Very Close Encounters: Modern China at the Grassroots" 2:15 PM  Meow Hui Goh, The Ohio State University                 "Practicing Human: As Gleaned from Early Medieval Chinese Texts" 3:30 PM  Sheila Miyoshi Jager, Oberlin College                  "The Other Great Game: The Opening of Korea, Wars of Empires, and the Birth of                  Modern East Asia" 4:45 PM  Michael Puett, Harvard University                  "Dispositions, Rituals, and Human Flourishing: Theories from Classical China" 5:45 PM  Conclusion
The Ohio Union, Great Hall Meeting Room, 1st Floor (registration required)
East Asian Studies Center
easc@osu.edu
America/New_York
public
Description
"The Role of East Asian Studies in the 21st Century"
Recent events––both positive and negative––have reminded us of the critical role of East Asia and East Asian studies in the 21st century. China, Japan, and Korea remain at the forefront of public attention across the globe, and yet, the landscape that surrounds us is ominous. A 2109 Chronicle of Higher Education article reported that global emphasis in higher education is diminishing nationwide. Foreign language programs are being closed, the number of students in foreign language courses is dropping, and international enrollment is on the decline. The ramifications of this diminished engagement with the world beyond the US borders are potentially disastrous. We at Ohio State University's East Asian Studies Center believe that it is time for all of us to ask what contributions we can make to the field during this time of crisis; how we can make a difference in this increasingly complex and interconnected world; and where we should go from here. These questions are particularly important for our graduate students as they prepare to be the next leaders of East Asian studies.
The East Asian Studies Center celebrates our 50th anniversary with a conference on the role of East Asian Studies in the 21st century. Full abstracts and bios can be found at the links to speaker pages below.
Schedule:
8:30 AM  Registration
9:00 AM  Welcome
                 Mitchell Lerner, The Ohio State University
9:15 AM  Mari Noda, The Ohio State University
                "Everybody Gotta be Someplace: Contexts are Always Serious"
10:30 AM  James Millward, Georgetown University
                   "Decolonizing the Historiography of China"
11:30 AM Lunch
1:00 PM  Paul Pickowicz, University of California, San Diego
                "Very Close Encounters: Modern China at the Grassroots"
2:15 PM  Meow Hui Goh, The Ohio State University
                "Practicing Human: As Gleaned from Early Medieval Chinese Texts"
3:30 PM  Sheila Miyoshi Jager, Oberlin College
                 "The Other Great Game: The Opening of Korea, Wars of Empires, and the Birth of
                 Modern East Asia"
4:45 PM  Michael Puett, Harvard University
                 "Dispositions, Rituals, and Human Flourishing: Theories from Classical China"
5:45 PM  Conclusion
Advanced
Text
REGISTRATION CLOSES MARCH 21
Free and Open to the Public
If you require an accommodation, such as live captioning, to participate in this event, please contact EASC at easc@osu.edu. Requests made at least two weeks in advance of the event will generally allow us to provide seamless access, but the university will make every effort to meet requests made after this date. 
This event is supported by a U.S. Department of Education Title VI grant to The Ohio State University East Asian Studies Center.
---