Monday, October 28, 2013 -

5:30pm

to

8:00pm
Mershon Center for International Security Studies (1501 Neil Ave., Columbus, OH 43201)
Institute for Chinese Studies presents
CHINA Town Hall
Monday, October 28, 2013, 5:30PM - 8:00PM
Mershon Center for International Security Studies
1501 Neil Ave., Columbus, OH 43201
National Speaker: Madeleine K. Albright
7:00 PM - "Issues in U.S.-China Relations"
Live Webcast
Co-sponsors:
National Committee on U.S.-China Relations
Mershon Center for International Security Studies, OSU

Madeleine K. Albright is chair of Albright Stonebridge Group, a global strategy firm, and chair of Albright Capital Management LLC, an investment advisory firm focused on emerging markets. In 1997 Dr. Albright was named the 64th, and first female, Secretary of State of the United States. At the time, she was the highest ranking woman in the history of the U.S. government. From 1993 to 1997, Dr. Albright served as the U.S. Permanent Representative to the United Nations and was a member of the President's Cabinet.
Dr. Albright is a professor in the practice of diplomacy at the Georgetown University School of Foreign Service. She chairs both the National Democratic Institute for International Affairs and the Pew Global Attitudes Project. She is also the president of the Truman Scholarship Foundation and a member of an advisory body, the U.S. Defense Department's 9 Defense Policy Board. In 2012, she was chosen by President Obama to receive the nation's highest civilian honor, the Presidential Medal of Freedom, in recognition of her contributions to international peace and democracy.

Local Speaker: Lloyd Neighbors
6:00 PM - "China's Diplomatic Relations"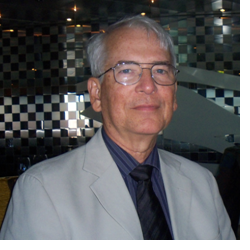 Lloyd Neighbors served as a diplomat for 30 years with the U.S. Information Agency and the Department of State. He retired in 2005 from the Senior Foreign Service with the rank of Minister Counselor. Most of his career was dedicated to work in greater China. As a junior officer Mr. Neighbors served in Taiwan (both Taipei and Kaohsiung) from 1975 to 1979. He was a public affairs officer (PAO) at the U.S. Consulate General in Shanghai from 1983 to 1987. He filled the same role in Hong Kong from 1989-93 and once again in Taipei (this time at the American Institute in Taiwan) from 1997 to 1999. From 2000 to 2003, his last long-term assignment abroad, he served as Minister Counselor for Public Affairs at the U.S. Embassy in Beijing.
Since his retirement in 2005 Mr. Neighbors has taken on short-term assignments for the Department of State in several countries in the Pacific region, serving as acting PAO in Rangoon, Hanoi (twice), and Wellington. In 2012 he returned officially to Beijing, where he spent two months as acting Senior Cultural Affairs Officer, helping to organize Secretary of State Hillary Clinton's participation in a major conference on People-to-People Exchanges with China. While in Beijing, he had the chance to work with his son Mark Neighbors, who just completed a two-year, junior officer assignment at the U.S. Embassy in Beijing.
Throughout his career Mr. Neighbors worked in the field of public diplomacy, helping to explain and advocate U.S. policies as a press spokesman and implementing some of the State Department's wide range of cultural and educational exchange programs.

Program

China's rapid development and Sino-American relations have a direct impact on the lives of just about everyone in the United States. CHINA Town Hall: Local Connections, National Reflections is a national day of programming designed to provide Americans across the United States and beyond the opportunity to discuss these issues with leading experts. The seventh annual CHINA Town Hall will be held on October 28, 2013 at 7:00 p.m. EDT. The National Committee on United States-China Relations is pleased to present this program, which will feature a live webcast with Madeleine Albright, the 64th United States Secretary of State, followed (or preceded) by local presentations from on-site China specialists addressing topics of particular interest to the community. Each program is co-sponsored by the National Committee and a local organization(s). CHINA Town Hall is generously underwritten by the Starr Foundation. The Institute for Chinese Studies at The Ohio State University is the only local partner of this event in the entire state of Ohio, and is one of 66 local partners in cities across the United States. The Institute for Chinese Studies, with OSU's Mershon Center for International Security Studies, are proud to be the local co-sponsors of this event in Columbus, Ohio, A write-up of the evening is featured in the campus newspaper: "United States-China relations 'key to peace and stability" (The Lantern, 10.29.2013).

This event is free. For more information on the local co-sponsorship of the Seventh Annual CHINA Town Hall, please contact Jeff Chan at chan.184@osu.edu or (614) 247-6893.

For more information, please go to http://www.ncuscr.org/cth