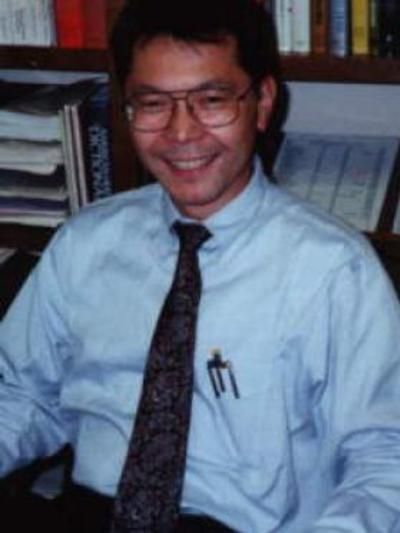 Masanori Hashimoto
Professor Emeritus, Economics
410 Arps Hall
1945 N High Street
Columbus, OH
43210
Areas of Expertise
Labor economics
Japanese economy
Education
Ph.D., Columbia University, 1971 (W. S. Woytinsky Scholar, President's Fellow)
B.A., Columbia University, 1965 (Cum Laude, Omicron Delta Epsilon)
Academic Positions
Professor of Economics and Member of the Institute for Japanese Studies, The Ohio State University, 1987-now
Professor of Economics and Adjunct Professor of East Asian Languages and Cultures, Indiana University, Bloomington, 1985-87.
National Fellow, Hoover Institution, Stanford University, 1983- 84.
Assistant Professor and Associate Professor of Economics, University of Washington, 1973-85.
Assistant Professor of Economics, Wayne State University, 1971-73.
Research Analyst, National Bureau of Economic Research,1969-71.
Professional Activities
Associate Editor, Journal of the Japanese and International Economies, 1990-now
Board of Editors, Atlantic Economic Journal, 1990-1993
Board of Editors, Journal of Economic Development, 1983-now
Editorial Advisory Committee, Labor Economics Program, Wayne State University Press, 1987-now
Research Associate, National Bureau of Economic Research, 1971-75
Major Publications
"A Theory of the Employment Relations System in Japan," Journal of the Japanese and International Economies, 9 (March, 1995): 75-95."
"Aspects of Labor Market Adjustments in Japan," Journal of Labor Economics, 11 (January 1993): 136-161.
"The Minimum Wage Law and Youth Crimes: Time Series Evidence," Journal of Law and Economics, 30, No. 2 (October 1987): 443-464.
"Employment Tenure and Earnings Profiles in Japan and the U.S.," (with John Raisian) American Economic Review 75, No. 4 (September 1985): 721-735.
"Minimum Wage Effects on Training on the Job," American Economic Review 72, No. 5 (December 1982): 1070-1087.
"Specific Human Capital as a Shared Investment," American Economic Review 71, No. 3 (June 1981): 476-482.
"Specific Capital, Employment Contracts, and Wage Rigidity," (with Ben T. Yu) The Bell Journal of Economics, 11, No. 2 (Autumn 1980): 536-549.
"Bonus Payments, On-The-Job Training and Lifetime Employment in Japan," Journal of Political Economy, 87, No. 5 (October 1979): 1086-1104.
"Economics of Postwar Fertility in Japan," Journal of Political Economy, 82, No. 2(2) (March/April 1974): S170-S194.
Books and Monographs
The Japanese Labor Market in a Comparative Perspective with the United States. Kalamazoo: W.E. Upjohn Institute for Employment Research, December 1990.
Minimum Wage and On-The Job Training. Washington, D.C.: American Enterprise Institute for Public Policy Research, 1981.
Working Papers
---
[pdf] - Some links on this page are to Adobe .pdf files requiring the use of Adobe Acrobat Reader. If you need these files in a more accessible format, please contact hashimoto.1@osu.edu.