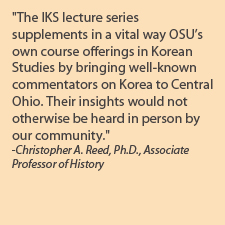 Lecture Series
The Institute for Korean Studies provides a regular forum for education and discussion related to contemporary Korean politics. Talks have featured both domestic topics, such as" Korean Education, Debates and Issues" (Dr. Don Adams, University of Pittsburgh) and "From Burial to Creation: Academics and Citizens as the Agents of Social Change in Today's South Korea" (Dr. Elise Prebin, Harvard University); as well as international, such as "The Korean War after the Cold War" (Dr. Sheila Miyoshi Jager, Oberlin College), and "Korea and Japan: A Journey through History" (Dr. Edward Shultz, University of Hawai'i at Manoa). Five prominent speakers visited as part of a Korean studies lecture series in 2009-10. In 2011, IKS hosted ROK Ambassador Han Duk-suh, for a talk about the past, present, and future of the Korean-American relationship.
Academic lectures are also regularly offered on all aspects of Korean history. Recent topics have included: "A New View on the Origins of the Koguryo State" (Dr. Mark Byington, Harvard University); "Citizenship Education and State-Making in the Early 20th Century Korea" (Dr. Kyung Moon Hwang, University of Southern California); and "Medical Laws and Forensic Records of Murder Cases in Choson Dynasty" (Dr. Ho Kim, Gyeongin National University). Talks are also provided from those who can share first-hand experiences from Korea, including journalist Norman Thorpe, who in 2008 described his experience covering the Kwangju Massacre of 1980, and Jamyung Koo, who spoke in 2009 about her personal experiences as a Korean novelist. During the 2011-12 academic year, IKS hosted Dr. Mark Peterson from Brigham Young University and Dr. Young chan-Ro from George Mason University, to discuss different aspects of Korean history.
For information about upcoming IKS lectures, visit our event calendar.