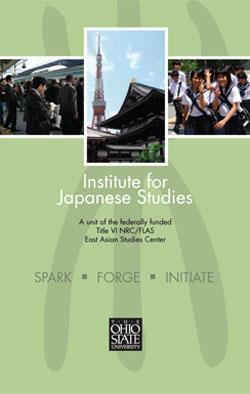 The Institute for Japanese Studies (IJS) was created in 1985 through a gubernatorial initiative in recognition of Ohio's national status as the second greatest site of Japanese manufacturing investment. Between 1985 and 1995, IJS received $1.8 million from the state of Ohio to intensify language training, introduce courses for students in professional schools, and reach out to businesses and the community. Today it continues to vigorously promote education and research about Japan.
Mission
The mission of the Institute is to provide leadership for Japanese Studies at The Ohio State University and assist academic and administrative units of The Ohio State University to advance and disseminate knowledge about Japan, including its people, language, art, culture, history, environment, government and politics, economy and business, and other aspects of its society. It is committed to maintaining and enhancing the national and international reputation of Japanese Studies at The Ohio State University in the areas of research, education, and professional service including outreach for K-12, business, the community and the state.
Research
IJS covers all areas of Japan studies with a lively program of academic activities. IJS organizes an annual lecture series and regularly convenes organizes symposia and conferences on key issues, inviting national and international specialists to share their research. IJS co-sponsors events with numerous departments, other centers and institutes and Japan-related organizations, including lectures, film series and exhibits. IJS also seeks to collaborate with other Ohio-based universities and colleges.
Courses
IJS has provided course development grants to OSU faculty in Japanese studies for innovative courses at OSU and for nationally unique faculty-led study abroad programs.
International Linkages
IJS assists in developing Memoranda of Agreement with universities in Japan and helps facilitate visits of Japanese delegations to the OSU campus. There are three different reverse-study abroad programs with the University of Shizuoka each summer.
Education Partners
IJS maintains close ties to the Ohio Department of Education and the K-12 community through many different programs and projects. IJS is home to several types of Japan Discovery Boxes and Display Boxes, that is, boxes with authentic artifacts that involve students in Japanese culture activities. IJS also houses the K-12 teacher-developed Ohio Japan Project. IJS contributes to a speakers' bureau that includes our staff, faculty, graduate and international students, study-abroad graduates, and Japanese community members who address many different topics.
Government and Business Partners
IJS also cooperates with partners in business and government sectors in promoting exchange between Ohio and Japan. IJS works very closely with the Saitama Prefectural government in the administration of the Ohio-Saitama Internship Program (in Japan) and the Saitama-Ohio Internship Program (in Ohio at Ohio companies) which takes place each summer.