The Chinese Culture Box
The Institute for Chinese Studies at The Ohio State University is pleased to offer the Chinese Culture Box for loan for up to two weeks. The box contains information and lessons about Chinese History, Language, Art, Culture, Toys, and Games and includes Chinese artifacts such as a puppet kit, music CD, abacus, books and Chinese chess set and more! We also have available smaller kits that contain the artifacts and information for one particular subject or activity, which may be convenient for subject-oriented lessons plans. Although materials in the box may be used for display purposes, students are welcome to handle any of the items.

The Institute for Chinese Studies will mail the box or separate kits free of charge directly to the school or organization wishing to use the items. However, they must be returned at the expense of the borrower. There are several of these boxes and kits compiled, but we encourage schools and organizations to reserve them in advance if possible.
If you are interested in borrowing any of these items, please download the Culture Box Request Form and return by fax, mail or email to: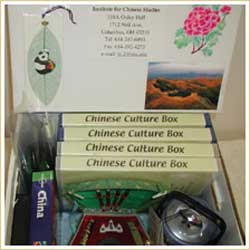 Institute for Chinese Studies
The Ohio State University
140 Enarson Classroom Building
2009 Millikin Road
Columbus, OH 43210
Fax: 614-292-4725
Email: china@osu.edu