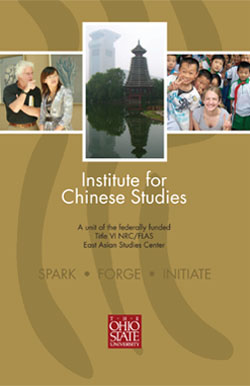 Mission
The Institute for Chinese Studies (ICS) is one of three institutes that form part of the East Asian Studies Center (EASC), which, together with other area studies centers are, in turn, under the auspices of the Office of International Affairs (OIA) and the College of Arts and Sciences at The Ohio State University.
Established in 2001, the Institute for Chinese Studies serves as a center for scholarly research, student training, and public programming about the Chinese-speaking world for OSU faculty, students, the P-12 community, business and government, and members of the general public. ICS focuses on the dissemination of knowledge about the cultures, languages, history, politics, economies, and the educational institutions of the Chinese-speaking world. Activities sponsored by the Institute not only focus on the People's Republic of China but also encompass the Chinese societies of Taiwan, Hong Kong and Southeast Asia.
Research
ICS covers all areas of China studies with a lively program of academic activities. ICS organizes an annual lecture series and regularly convenes and organizes symposia and conferences on key issues, inviting national and international specialists to share their research. ICS co-sponsors events with numerous departments, other centers and institutes and China-related organizations, including lectures, film series, exhibits, symposia, graduate forums, etc. ICS also seeks to collaborate with other Ohio-based universities and colleges. ICS also hosts individual visiting scholars and has been a pioneering unit in the East Asian Studies Center's annual postdoctoral researcher competition.

Courses: ICS has provided course development grants to OSU faculty in Chinese studies for innovative courses at OSU and for nationally unique faculty-led study abroad programs. ICS also works on expanding access to the less commonly-taught languages of China such as Tibetan, Uighur, Mongolian, and conversational Cantonese. ICS assists in the administration of the Graduate Interdisciplinary Specialization in Chinese Cultural Studies and supports undergraduate research.
International Linkages
ICS assists in developing Memoranda of Agreement with universities in the Chinese-speaking world and helps facilitate visits of Chinese delegations to the OSU campus. In addition, ICS at The Ohio State University and the Institute of Chinese Dialects at Jinan University (Guangzhou, China) signed a Memorandum of Understanding in summer 2013, with the aim of promoting academic exchange activities pertaining to Chinese dialectology research between the units in the two universities.
Education Partners
ICS maintains close ties to the P-12 community. Home to several types of Chinese culture boxes, that is, boxes with authentic artifacts that involve students in Chinese culture activities, ICS also contributes to a speakers' bureau that includes our staff, faculty, graduate and international students, study-abroad graduates, and Chinese community members who address many different topics.
Government and Business Partners
ICS also cooperates with partners in business and government sector in promoting exchange between Ohio and the Chinese-speaking world. The sister city relationships with Hefei (Anhui Province, China) and with Hubei Province are especially active.