2013 NRC Conference: Demonstrating the Impact of National Resource Centers
Wednesday, February 27, 2013 (All day)
-
Thursday, February 28, 2013 (All day)
The Blackwell Inn, The Ohio State University, Columbus, Ohio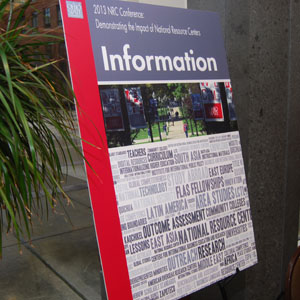 Four Title VI centers (Center for Latin American Studies, Center for Slavic and East European Studies, East Asian Studies Center, and Middle East Studies Center) at The Ohio State University collectively proposed a conference in their 2010-2014 grant proposals to address the need for information sharing and collaboration to promote effective evaluation practices. The conference, "Demonstrating the Impact of National Resource Centers (NRCs)," was held at The Ohio State University on February 27-28, 2013. The conference was the first collective effort among NRCs to identify and promote effective evaluation practices. The main goals of the conference were twofold: a) to bring together Title VI NRCs, administrators and researchers to share promising practices and strategies in evaluation and assessment of foreign language and area studies programs; and b) to facilitate national discourse on defining and measuring NRC outcomes and thus help shape future directions for area studies.
Over 150 faculty directors, assistant directors, and administrators from 46 institutions of higher education, representing 86 (out of 125) National Resource Centers were present at the conference. Over 50 NRC administrators and researchers presented on various evaluation initiatives for NRC core programs including Foreign Language and Area Studies Fellowships (FLAS), K-16 outreach, less-commonly-taught languages, and undergraduate and graduate degree programs. Based on these presentations and subsequent group discussions, the program committee chairs summarize the impact of the NRCs and make recommendations in the below documents:
Proceedings
Conference Program: available in pdf format
Streaming Video/Audio Recordings: in Web mp4, Real Player, and Windows Media Player formats
Presentation Materials
Reports
Additional Information
Program Committee: program chairs, program committee, chairs of working groups, conference support
Sponsors: departments, centers, colleges at The Ohio State University sponsoring the conference
Contact Us: contact information for this conference.
Some links on this page are to .pdf files. If you need these files in a more accessible format, please contact Amy Carey at: carey.189@osu.edu.